Honor Guard
Today, in the United States, some 900,000 law enforcement officers put their lives on the line for the safety and protection of others. They serve with valor and distinction – and with great success.
"The wicked flee when no man pursueth: but the righteous are as bold as a lion."

-Proverbs 28:1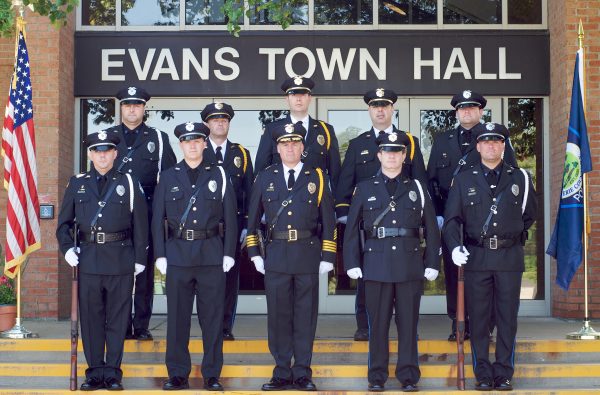 Federal statistics show that violent and property crime rates in the United States are at historic lows, thanks in large measure to the dedicated service of the men and women of law enforcement.
That protection comes at a price, however. Each year, there are approximately 60,000 assaults on law enforcement officers, resulting in nearly 16,000 injuries. Sadly, over the last decade, an average of 160 officers a year have been killed in the line of duty. And throughout U.S. history, over 19,000 law enforcement officers have made the ultimate sacrifice.
On average, one law enforcement officer is killed in the line of duty somewhere in the United States every 57 hours. Since the first known line-of-duty death in 1791, more than 19,000 U.S. law enforcement officers have made the ultimate sacrifice. (National Law Enforcement Officer's Memorial)
The Town of Evans Police Department Honor Guard Unit was established in November 2011, and consists of ten full time police officers, all of who have volunteered to be a member of the unit
The Town of Evans Police Honor Guard is dedicated to honoring the memory of each and every police officer that has made the ultimate sacrifice while serving and protecting their community, to "give back" to officers and their families for their sacrifices and service, and to support and assist them upon the loss of a loved one, to properly honor and pay tribute to "those who went before" with the utmost respect and dignity, and to preserve the historical traditions associated with such honors.
The Town of Evans Police Department Honor Guard represents the Department, its members and their families at police funeral services, funeral services for dignitaries, memorial services, parades and other ceremonial occasions, such as the annual September 11 memorial ceremony held in the Village of Angola, and at the annual fallen law enforcement officers memorial service and wreath laying ceremony each May, and presents a positive, professional image of our Department and the community which we faithfully serve.