Marine Rescue Unit
The Marine Rescue and Recovery Unit of the Evans Police Department was established on August 15, 1988.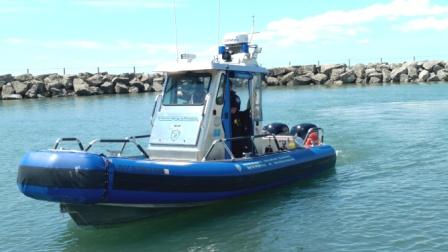 The Marine Unit responds to calls for assistance in water and ice rescue situations, including drowning or possible drowning, boating accidents, and recovery of property and bodies.
This unit provides marine services along our shores of Lake Erie and Emergency Services through the ALERT group throughout Western New York when called upon.
The Marine Unit is equipped with a 23′ search and rescue Safe Boat that is docked at the Sturgeon Point Marina.
The following personnel are assigned to the Marine Rescue Unit:
Lt. Thomas Crupe – Supervisor
Lt. Peter Smith
Det. Bruce Green Jr.
Ptlm. Luke Fioretti
Ptlm. Doug Tubinis
Ptlm. Michael Kauzala
Ptlm. Patrick Atler
Ptlm. Kenneth Kloss
Ptlm. Nathan Miller